Black History Month isn't just about looking backwards. It's also "an opportunity to celebrate the present and reflect on the future," in the words of Black technologist Dwana Franklin-Davis.
The scientific contributions 🧪 of Black people are enormous, even if they weren't always acknowledged at the time. Here, we aim to highlight some significant Black women in STEM whose names you may not recognize.
Here's to their accomplishments — and to celebrating Black innovators year-round. 🙌
"Your best champion and cheerleader is yourself. Always be proud of your accomplishments, big or small." — Ayanna Howard
Ayanna Howard is one of Forbes' "Top 50 Women in Tech" and the first female dean of The Ohio State University's engineering school. She is also a talented roboticist — contributing to the design of multiple NASA robots.
"The greatest challenge I faced in becoming a neurosurgeon was believing it was possible." — Alexa Irene Canady
Alexa Irene Canady, MD, became America's first Black female neurosurgeon in 1981. She was also the first woman, and the first Black person, to be a surgical intern at Yale-New Haven Hospital.
"The future never just happened. It was created."  — Mae Jemison
Mae Jemison is a doctor, engineer, and America's first Black female astronaut, serving on the crew of the shuttle Endeavour in 1992. She is also the only real astronaut to have appeared on Star Trek: The Next Generation.
"Anything you don't know is going to be hard at first, but if you stay the course, put the time and effort in, it will become seamless eventually." — Jeanette Epps
Jeanette Epps is the first Black woman astronaut to visit the International Space Station. She also worked for the CIA and Ford Motor Company, for which she authored multiple patents.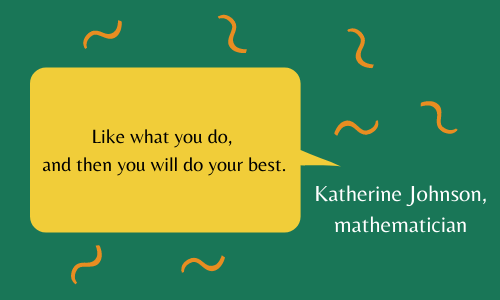 "Like what you do, and then you will do your best." — Katherine Johnson
Katherine Johnson was a NASA mathematician, portrayed by Taraji P. Henson in the film Hidden Figures. Over her 33-year career at the space agency, her calculations contributed to multiple manned spaceflights. She is a Presidential Medal of Freedom honoree.
"How we relate to one another both online and offline is at the core of civic engagement." — Nicol Turner Lee
Nicol Turner Lee is a technology governance researcher at the Brookings Institution and an advocate for equitable internet access. Her work was cited in the Federal Communications Commission's National Broadband Plan in 2009.
"Time pushes everything forward. No stunning success and no sorrowful failure lasts forever." — Rapelang Rabana
Rapelang Rabana is one of Africa's most accomplished tech entrepreneurs. Named to Forbes' 30 Under 30 list in Africa in 2013, she has since founded an educational app called Rekindle Learning.
"I'm out here to get the job done, and I knew I had the ability to do it, and that's where my focus was." — Annie Easley
Annie Easley was a "human computer" and later a computer scientist at NASA. She also led many outreach initiatives for the agency, focused on inspiring underrepresented groups to consider STEM careers.
"When Black women and other women of color are left behind, innovation and progress are left on the table." — Dwana Franklin-Davis
Dwana Franklin-Davis is a technologist and the CEO of Reboot Representation, a nonprofit coalition that aims to double the number of Black, Latina, and Native American women receiving computing degrees by 2025.
"Treasure your curiosity and nurture your imagination." — Shirley Ann Jackson
Shirley Ann Jackson is a physicist, the current president of Rensselaer Polytechnic Institute, and the first Black woman to receive a doctorate from MIT. She also served in multiple policy advisory roles under Presidents Clinton and Obama.
Photo by Girl with red hat on Unsplash.