Labor Day has been on the American calendar for more than 120 years.
Today, it marks the traditional end of summer–a time for travel, BBQs, and relaxation. But the day's origins lay with union leaders in New York City who wanted to honor workers and their sacrifices.
First proposed in 1882, the holiday was meant to recognize those "who from rude nature have delved and carved all the grandeur we behold" (in the words of Labor Day founding father Peter J. McGuire).
Labor Day wasn't just a day for celebration. Work looked very different in the late 1800s–hours were longer, workplaces were more dangerous, and child labor was common. The first Labor Day participants made an effort to bring light to tough working conditions and press for improvements.
The efforts of those early labor activists took time to bear fruit: 8-hour workdays didn't become the norm until 1938. But the way work looks today owes a lot to the first Labor Day celebrants.
In honor of the founders of Labor Day and workers everywhere, here are 7 of our favorite quotes on work. Which is your favorite? Share it with us on the socials @illumyinc.
1. everyone has something they can contribute.
2. start small; the important thing is to begin.
3. understand the difference between doing and talking.
4. ask how you can serve others.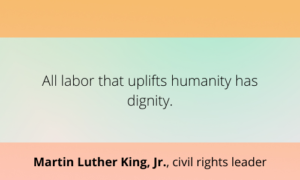 5. attitude is everything.
6. bias yourself towards taking action.
7. stay the course, even when things get tough.
Photo by Andrew Wise on Unsplash.